White Night is a mystery thriller novel. It is the ninth chapter in The Dresden Files novel series. The book is written by Jim Butcher who is known for producing some mind-blowing mystery thrillers. If you want to know about his more literary works then the best ones are Fool Moon and Peace Talks.
The narration of the White Night novel is done by James Marsters. He is a fantastic narrator and many people pick audiobooks just because it is narrated by him. However, he had some strong content to perform which he did with utmost perfection.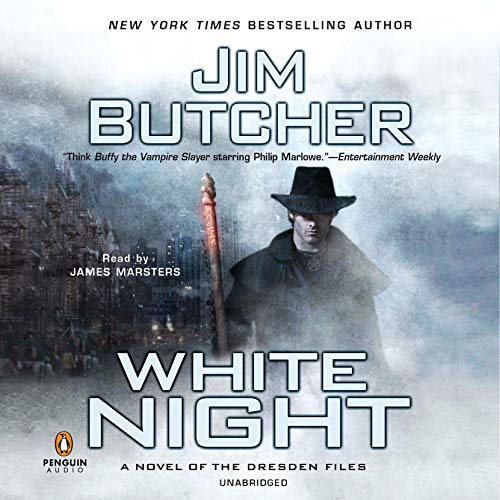 Someone in Chicago has been on a loop of killing the practitioners of magic. Those practitioners were the ones who were not capable of becoming complete or full-fledged wizards. All the evidence shockingly points to the half-brother of Harry Dresden. His name was Thomas. Harry Dresden was fully determined to get the name of Thomas cleared from the allegation. Starting with all this, Harry uncovered a deep conspiracy that was happening within the White Council of Wizards. It was threatening not only Harry Dresden but all his nearest and dearest ones as well.
The production quality of this audiobook s not good. It is missing some definite parts of the book. Those who have already gone through the print version of the novel were quick to realize this. This was a big disappointment. Otherwise, it is a fantastic novel and the strong performance from James made it so much nice to the ears.
White Night is one of the strongest novels in The Dresden Files series. There is something unique and extraordinary about this novel where the character of Harry, an urban wizard is portrayed with perfection.